2012 Trip - Day 46
2011 Trip across the US
Other Trips
Sunday, June 17 - Zion River Resort, Virgin, UT -20.9 Miles Today, 6,503.3 For the Trip
I didn't get back up the canyon - discovered my new trail running shoes were not too tight - I had a blister on the inside of my right big toe. The banging around in the Narrows rock bed combined with the less than perfect fit (I have wide feet and finding shoes that fit is difficult) ended up giving me my first blister in years of hiking. So, I relaxed. While hanging around the campsite I discovered neighbors - a bunch of ground squirrels living in my shade tree. I have no idea how many are in the tree - while the most I saw at one time was 3, only 2 let me take their picture.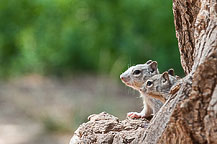 I also decided that I wanted AC. While sitting outside in a light breeze in the shade was bearable, the inside of the trailer, even with the fan going full blast and all the windows & door open was hotter than I liked. So, I headed out to Virgin, UT & site 103 at the Zion River Resort. A nice place with all the amenities, and, for a resort, the surprise that the utilities were all in the right place!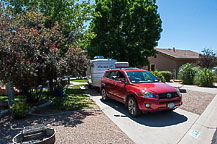 Around 4:00 Alice from St George, UT stopped by to see the Escape Trailer. She brought a delicious lasagna which I had for dinner. While I'll show off the trailer to anyone interested, dinner is a wonderful reward! So, I'm sitting is a 75°F trailer with nothing to do tonight. The plan is to head towards Salt Lake City to get the camera cleaned. I don't expect to get there in one day, but since most of the driving will be on Interstate 15, who knows...
---
This page is maintained by: vermilye@oswego.edu
Last Update: June 18, 2012