2012 Trip - Day 28
2011 Trip across the US
Other Trips
Wednesday, May 30 - Blanding, UT- 128 Miles Today, 4682.5 For the Trip

Still no LakeshoreImages website so I may start adding more photos at the Blogger site. I did get up to the Monument Valley Overlook/Parking Lot a little after dusk. I took a series of photos, most at ISO 1600, f:2.8 & 8 to 15 seconds. There was enough moonlight to show the formations, yet allowed enough of the stars to show to make it interesting. It would have been better if there was a power blackout - the parking lot has lots of lights. There are a few images with lights from returning cars, and airplanes, but overall it worked OK. I also stopped on the way north to take a "Classic"Monument Valley from US 163. Unfortunately, the sky was as usual this time of year - flat & blue!
I washed the trailer & RAV4 on the way out of Gouldings Camp Park. The water spray didn't remove everything; the bugs need an actual scrubbing, but at least the first layer of red dust is gone.
It was a short drive to Blanding, UT & the Blue Mountain RV Park. I'm in site 8, a shaded back in that just fits the trailer & RAV4. After setting up I plan to drive out to the location for the trail to House on Fire. It is too late in the day to properly photograph it - I'll do that tomorrow.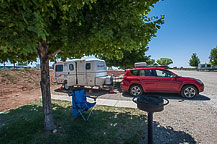 I did drive out to the trail head, and also stopped at the "Official" Mule Canyon Ruin Exhibit, about 1/2 mile west of Arch Canyon road, the entrance to the trail head. Laurent Martres, who's 3 books "Photographing the Southwest" have been my guide to many locations feels that the exhibit was built to keep down traffic in the canyon. I'll have to agree with him - it is far to new looking to be realistic.
UT 95, the road that goes by the exhibit passes through some interesting landscape, including the very red road cut pictured below as well as interesting formations.

After that it was back to the campground by way of the local grocery store & some barbecued chicken for dinner.
Until Tomorrow -
---
This page is maintained by: vermilye@oswego.edu
Last Update: December 23, 2015