2011 Trip - Day 102
Back to Jon Vermilye's Photo & Trip Page
Other Trips:
---
Thursday, July 28 - Gettysburg, SD- 212.3 miles, 16,905.1 for the trip
It started to pour around 5:30, the time the campground restaurant opened, so I ended up eating in the trailer. I guess I'll never know how good the BLT Salad was!
I got an early start heading east on US 212. Interestingly, I drove 212.3 miles on US 212, crossing the Missouri River (which is still quite flooded) & stopping for the day at Site 42 in Bob's Resort just west of Gettysburg, SD. I'm not sure why it is a resort - the hookups are in the right place, I have a picnic table, and the price is only $21.00. A level pull through with full hookups & a bit of shade. They do have Bob's Steakhouse next door - maybe I won't be cooking for dinner. The only minor problem is I'm about as far from the bathrooms as I've been anywhere on the trip.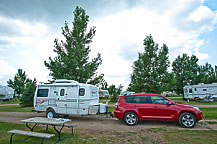 Until tomorrow!
This page is maintained by: vermilye@oswego.edu
Last Update: March 20, 2012