2011 Trip - Day 100
Back to Jon Vermilye's Photo & Trip Page
Other Trips:
---
Tuesday, July 26 - Jewel Cave & More, SD- 104.3 miles, 16,565.7 for the trip
Today I felt more like a tourist than I have for most of the trip. I started the day with a stop at the Mammoth Site in Hot Springs. It is an interesting dig site - they have a building over the entire site, so working in any kind of weather is possible. We were there during our 2000 trip to Missoula for Karin's Wedding, and it hasn't changed all that much. Some photographs:
Jewel Cave National Monument was the next stop. I enjoyed the Scenic Tour and took lots of photographs. Here are a few:
There are more photos of the cave on my Wind & Jewel Caves Page.
After that I stopped at the National Museum of Woodcarving in Custer. Although there are other contributors, it seems to exist mostly to exhibit the work of Dr. Harley Niblack. Some interesting stuff, particularly the animated works.
I wanted to see what the finished rebuilding of the visitor center at the Mount Rushmore National Memorial looked like. The last time I was there was on a 1996 trip & they were in the middle of construction. It sure is different. I remember sitting under some trees on a hillside taking pictures as the night lighting came on - now there is a large walkway & amphitheater. I don't know if it's an improvement, but it sure moves people through faster than the old set up.
I saw something I haven't seen in years on the way back to Hot Springs from Mount Rushmore - a haystack. Didn't know anyone used them anymore with all the automatic bailers, etc but there were a couple of fields with them.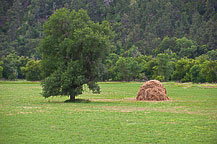 I finally got back to the campground around 5:30, made spaghetti & sausage for dinner.
Until tomorrow!
This page is maintained by: vermilye@oswego.edu
Last Update: March 20, 2012