2011 Trip - Day 97
Back to Jon Vermilye's Photo & Trip Page
Other Trips:
---
Saturday, July 23 - Johnson's Corner RV Retreat, CO - 200.7 miles, 16,061.4 for the trip
Not too much happening today. I started east on I70. Not sure what is going on, but there is a huge bicycle race in the Vail area, and traffic was backed up in both directions a little west of Frisco. Not sure if that is normal for a weekend. I picked up CO 119 in Central City, a town that is interesting to drive through pulling a trailer. Glad it's small! Anyway, CO 119 twists & turns its way through canyons along side rivers full of rapids. Very pretty, although lots of 8% - 10% grades. After a short stint on I25, I got off at exit 252 & stopped for the night at Johnson's Corner RV Retreat in Johnstown, CO. I'm in site 154, 28' long, & I just fit without unhooking. A crowded campground that doesn't have a lot of shade & it's 96°F. I am running the AC!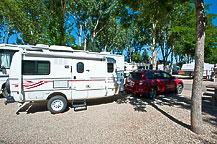 The do have a pool just large and empty enough to attempt to do some laps. I'll give it a try after posting this. Otherwise, today is just a stop on the way north. The plan (subject to change, as usual) is to pick up US 85, and eventually US 2. I might make a stop at Crystal & Wind Caves - I haven't visited a cave yet on the trip, so that is the plan.
Until tomorrow!
This page is maintained by: vermilye@oswego.edu
Last Update: January 29, 2013