2011 Trip - Day 95
Back to Jon Vermilye's Photo & Trip Page
Other Trips:
---
Thursday, July 21 - Glenwood Springs, CO, Day 2 - 196.5 miles, 15,824.8 for the trip
I'm at the Glenwood Canyon Resort, another one of the campgrounds that calls itself a resort meaning they charge more & do things like put the sewer connection so far from the trailer's outlet that you need two or even three hoses to get to it. It doesn't really matter since I generally don't hook up to the sewer connection anyway, but I have no idea why they put them where they did. At least I have a picnic table. Most "Resorts" don't supply one. It is a pretty location overlooking the Colorado River at the western end of Glenwood Canyon, although the campsite doesn't. Their new "No Name Bar & Grill" building is right next to the campsite - we'll see how that works out over a Friday night!
The plan is to do little or nothing today & head for Hanging Lake, about 2 miles from the campground, tomorrow. The only photo so far today is the campsite: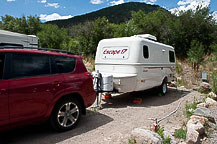 I did go into Glenwood Springs for gas, and checked out the Hot Springs - Anne Guido thought I should do the Springs, but I guess I'm too lazy. It looked very crowded, no parking spaces, and expensive. Just excuses, but I passed it up.
Until Tomorrow!
This page is maintained by: vermilye@oswego.edu
Last Update: March 20, 2012