2011 Trip - Day 80
Back to Jon Vermilye's Photo & Trip Page
Other Trips:
---
Wednesday, July 6 - Site 74, Spruce Grove Resort, Fairmont Hot Springs, BC - 205.9 miles, 13,460.5 for the trip
Last night I went back to the boat dock at Lake McDonald for one last try at capturing a photo that I liked as much as the one I use on my card. No such luck, but I did get a couple of useful images. At first, the sunfish sailboat was annoying, however as the lake calmed down the reflections of its sail got interesting. I also experimented with a ND filter to create long exposures to smooth out the ripples.
| | | | |
| --- | --- | --- | --- |
| | | | |
| Lake McDonald, Glacier National Park | Lake McDonald, Glacier National Park | Lake McDonald, Glacier National Park | Lake McDonald, Glacier National Park |
I crossed the border on US 93 at Roosville with a very short wait & without any problems. It has been interesting trying to explain to the Canadian customs agents why I would drive all the way from New York to British Columbia to buy a travel trailer - apparently they don't know that the best fiberglass trailer is made in Canada!
I switched the GPS to kilometers to make it easier to keep within the speed limits, but the odometer on the RAV4 is staying at miles so I can keep track without getting confused. I stopped for the night at Fairmont Hot Springs, the Spruce Grove Resort, Site 74, did laundry, and will take a real shower tonight. I may even wander over to the hot spring fed pool for a swim later on.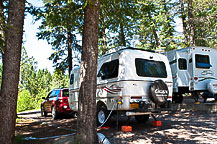 For some reason the WiFi Ranger picked up a local, open WiFi source. Not sure where it is coming from - the RV office said I would have to go to the lobby of the hotel to make a connection (hardly what I would call "internet available" in AAA's description of the campground). In any case, I'll post this while connected.
Until the next internet capable location!

This page is maintained by: vermilye@oswego.edu
Last Update: March 20, 2012