2011 Trip - Day 60
Back to Jon Vermilye's Photo & Trip Page
Other Trips:
---
Thursday, June 16 - Green River, UT, Island in the Sky, UT - 56.4 miles, 10146.8 for the trip
Hard to believe I've been on this trip for 2 months.
We had a wind storm last night that was the equal of the Valley of Fire storm. I can't tell you how much the first blast rocked the trailer - I was in the campground shower covered with soap when the power went out. The water in the campground is supplied by a pump - it was the fastest rinse I've ever tried!
This morning I started out doing laundry in Moab. Although the campground had a laundromat, it was very small, and was always full. The one I stopped at in Moab had a commercial washer which made quick work of my pile of stuff. After that it was off to the car wash to get rid of the Moab Sand (fine enough that I'd call it dust) that covered everything, inside & out. I even managed to wash part of the trailer.
I followed I15 for about 25 miles, getting off in Green River. I'm at the Shady Acres Campground, Site 26. The campground is actually shady - I'm under a tree. The showers are not too far away, are clean & have large stalls. It was 95°F when I pulled in, however another rain & wind storm came up just after I arrived, and the temperature is down to 72°F right now. This storm actually included a fair amount of rain - there are puddles all over the campground, and the RAV4 & trailer are just as dirty as they were yesterday. Oh well...
The only photo today is the campsite: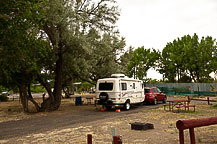 Till Tomorrow!
This page is maintained by: vermilye@oswego.edu
Last Update: March 20, 2012