2011 Trip - Day 50
Back to Jon Vermilye's Photo & Trip Page
Other Trips:
---
Monday, June 6 - Zion National Park, UT- 150.3 miles - 9148.3 for the trip
So far the only photo today is of the Zion Canyon Campground we are staying in for the next 3 days. I'm in H1, a full service RV site & Don & Anne are next door in J22, a tent site.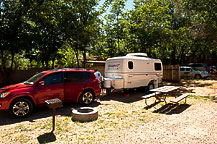 We had serious headwinds on UT 18 on the way here. I was doing 55 on flat ground, but the transmission was in 3rd gear. I did eat lots of gas until we reached Enterprise where UT 18 changed direction. All I had to worry about after that was getting blown off the road. Actually, the trailer handles well in high side winds as long as I stay under 60mph.
We arrived in Springdale, UT, a small town at the south entrance to Zion around 3:00 Mountain time, and rather than going into the park we did some food shopping for dinner, and hung out at the campground. I may go into the park for some photos if it looks like a nice sunset, otherwise, we'll head in tomorrow.
Well, it wasn't great, but the first photo is what we looked at while we ate dinner. A group from Trek America arrived at a couple of the sites next to us. An interesting organization. They arrange small sized tours, this one of the National Parks. About 10 people from all over the world touring in a van, trailer & a bunch of tents. Looks like a great way to see the country.
| | |
| --- | --- |
| | |
| Our Dinner View | Trek America |
Till then -
This page is maintained by: vermilye@oswego.edu
Last Update: March 20, 2012