2011 Trip - Day 30
Back to Jon Vermilye's Photo & Trip Page
Other Trips:
---
Tuesday, May 17 -Monument Valley, AZ, 144.9 miles - 6280.6 for the trip
I'm still in Gouldings Campground at Monument Valley for tonight. I went back to the Monument Valley Navajo Tribal Park to shoot some photos of the moon rise but it wasn't much of a success. Very cloudy, and the darn moon didn't come up where I wanted to!
I spent the day driving up US 163 & UT 161 exploring some of the suggested sites in both the Gouldings handout & Laurent Martres' Photographing the Southwest, Volume 1 - Southern Utah.
There were many interesting rock formations along the way, including Mexican Hat, a very large balanced rock. The next stop was Gooseneck State Park. While Horseshoe Bend in Arizona is somewhat more impressive, this bend consists of 3 loops. Very impressive. I couldn't fit the entire image in one shot, even with my 17mm lens, so this is a panorama made up of 10 individual images put together in Photoshop.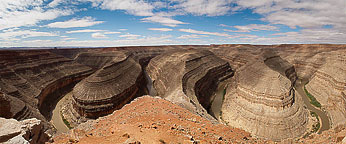 After Gooseneck I continued up US 161 & drove part way through The Valley of the Gods. Not quite as impressive as Monument Valley, but much quieter, and a much better road. The reason I didn't go the full length of the valley is because there was one part of UT 161 I had to drive - the Moki Dugway. This is a 4 mile section of UT 161 that is a gravel road that gains around 1000' going north, complete with many hair pin turns. Although most of the road is wide enough for two vehicles, there are no guard rails, steep drop offs, and magnificent views! It isn't all that difficult unless you are nervous about heights. I first discovered the road in a YouTube video of a semi going down the road. They aren't allowed, but it is an interesting video. After driving up the Moki Dugway, I took a dirt road to the left at the top that goes to Muley Point. This is a definite stop for anyone. If you come from the North, UT 161 is paved up to the turn off & you don't have to do any of the Moki Dugway. It is a pretty good dirt road, although badly washboarded. There are two stops, the last one very impressive. You can stand on the rocks at the end & see the valley below in almost 360°. Again, I suggest anyone going near to make a stop.
| | | | |
| --- | --- | --- | --- |
| | | | |
| Mexican Hat | Moki Dugway | Moki Dugway | Moki Dugway |
| | | | |
| Muley Point | Muley Point | Mexican Hat | Rock Formation |
| | | | |
| Monument Valley from the North | Monument Valley | | |
After that it was back down the Moki Dugway just to see it in the other direction and avoid a long loop to get back to the campground on paved roads.
Again, the campground data connections seem to be non existent, either via their WiFi or my cell modem. The Blogger post gets through, but my attempts at posting larger photos & my Dreamweaver based site all failed. So, for more photos you will have to wait for a better connection.
Till Later...
This page is maintained by: vermilye@oswego.edu
Last Update: March 20, 2012