2011 Trip - Day 6
Back to Jon Vermilye's Photo & Trip Page
Other Trips:
---
Saturday, April 23 - Moses Lake, WA - 498.9 Miles, 2808.3 for the trip
I love the story of Ansel Adams taking one of his most famous photos, Moonrise, Hernandez, New Mexico, 1941. It is one of my favorites & I couldn't help thinking of it while driving along I90 this morning watching the moon over the mountains. I stopped to take a photo - nothing of the caliber of Ansel Adams work, but for better or worse, here are a couple of the moon setting:
It was a cold, crisp, sunlit morning; 27°. I'm glad I stopped at a Walmart yesterday & bought a scraper - there was a layer of ice & snow on the RAV4. The Bozeman Days Inn does a cooked to order hot breakfast that was excellent. After that it was off to Butte, MT and the various passes between Bozeman & Washington state. I didn't need to worry about them, even though I talked with a couple of people that had to wait a couple of days before they could cross. Today it was crystal clear, both the road & the skies.
I made a short stop to take a photo of the mountains outside of Bozeman. I believe is part of the Tobacco Root range; someone can correct me if I'm wrong. In any case, no photograph does it justice - If I stayed in Bozeman for a couple days I sure I could come up with something without a telephone pole growing out of the center, but I was still in a hurry to get to the pass at Butte while the sky was clear. In any case, Bozeman is surrounded by mountains, most of which are snow covered this time of year. Very pretty!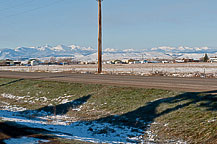 The rest of the day was fairly uneventful, other than a nostalgic stop at Missoula. My daughter & her husband both obtained their master's degrees in International Conservation at the University of Montana at Missoula. It was one of their favorite places, and we visited them as often as we could while they were there. In fact, they got married just north of Missoula on the shores of Lake McDonald in Glacier National Park.
So, I had to give Karin a call while stopped for lunch. I also took a photo while leaving the city: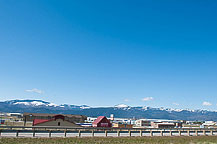 I stopped for the night (well, it was actually late afternoon, but the days that add a time zone are an hour longer than normal) at The Interstate Motel in Moses Lake, WA. I drove 498.9 miles today for a trip total of 2808.3 miles.
If the weather is good tomorrow I'll take a break from I90 to visit Mount Rainier. The last time I saw the mountain was in 1969 when I was stationed at Fort Lewis after returning from Viet Nam. Unfortunately, the forecasts I've heard so far predict rain all over the state, but one can hope.
---
This page is maintained by: vermilye@oswego.edu
Last Update: March 20, 2012