Cherry Blossom Time & Washington DC
Back to Jon Vermilye's Photo Page
Back to Washington Trip Index
Other Pages:
Animals & Insects
Birds
Chipmunks
Flowers
Landscapes / Scenic
Lighthouses
New England & Nantucket
Oswego
Other Images
State & National Parks
Theatrical Images
Waterfalls
---
April 9, 2005

The plan is to leave the hotel bright & early, drop the car at Karin & Brian's & catch the Metro from the Takoma station (a couple of blocks from their apartment) to the Smithsonian stop & check out the National Cherry Blossom Festival. Just in case you need a Metro Map (click on the map or any image to enlarge): (a PDF DC Metro map is available here)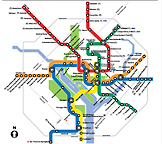 The DC Metro makes far more sense than New York City's subway. You only pay for the distance you travel. You can buy paper Metro Fare card for $1.25 - $45.00, a couple of different types of passes, or a SmarTrip rechargeable card. The card goe3s into the turnstile when you go into a station, again on the way out, deducting the cost of your ride. Maybe you can ride the New York Subway all day for only $3.00, but it is the same $3.00 for going just one stop.
Anyway, we made it just in time to miss a train, but they have a clock on the wall that tells you when the next one will arrive. After a bit of walking (quite a bit for Carol) we eventually got to the cherry trees.
| | | |
| --- | --- | --- |
| | | |
| Cherry Trees on the Mall | The Washington Monument | The Washington Monument |
| | | |
| Cherry Blossoms | Close Up of Cherry Blossoms | |
The trees are in full blossom. Although we have some at home (that aren't due to blossom for another month) the sheer number of them is wonderful.The view of the Tidal Basin and the Jefferson Memorial is beautiful. A large (5 MB) PDF map of the trees is available.
After walking around the area it was almost time for the "Southwest Airlines National Cherry Blossom Festival Parade." Although we don't have any little kids with us, it's hard to pass up a parade. First, a quick brunch stop next to the Washington Monument: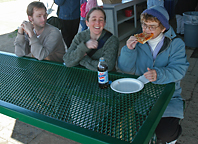 It's not really that cold - Carol just likes to be extra warm. After a slice of pizza, it's a short walk to the parade. We ended up next to the sold out grandstand so we got to hear a local radio team announce who & what was going by. I missed the name of the balloon with the glasses. I Know! I should know who this is. Feel free to email me with the name & I'll fix it! OK, Thanks to Kathy, it's fixed! Anyway, a great day great day for a parade. A bit crowded, but not to hot and not to windy. We even found some empty benches to sit on when we got tired of standing.
| | | |
| --- | --- | --- |
| | | |
| The DC Mounted Police | The Marine Marching Band | The Navy or Coast Guard |
| | | |
| Everyone Should Know This One! | Arthur! | Garfield |
After the parade we went back to Takoma Park for Lunch. Karin & Brian suggested a place called Mark's Kitchen.(a review). An interesting place - a mixture of vegetarian & old time diner. I had a Avocado / Red Onion / Radish Sprout / Chive Havarti Cheese sandwich. A wonderful combination that was delicious!
After lunch, it was back to Karin & Brian's to hang around, talk, read, & for one of us, listen to a Yankee's game. Later we called it a night & made an early retreat back to the Hilton. Guess what - the key card doesn't work. Went down to the desk - they decided it was a bad idea to put a cell phone & the key card in the same pocket. I suspect this problem happens quite often. Anyhow, we finally got a working key & back into our room.
---
This page is maintained by: vermilye@oswego.edu
Last Update: March 25, 2012