Our 1996 Trip Across the USA Page 26
Back to Jon Vermilye's Photo & Trip Page
---
---
A note on Photographs - All of us are taking pictures - I'll do my best to give photo credits with an initial, but if I miss one be sure to let me know! J = Jon, D = Don, A = Anne & C = Carol. You can usually tell Anne's - her camera puts the date on the image! Also, most of the images are scans of old & faded prints, so the quality may not be all that hot.
July 28 - The Badlands, SD (326mi)
We started the day driving east on SD Rt 44 through the Badlands National Park. We got a good idea of what the place must have felt like - there was almost no one in the park. Huge expanses of well, Badlands! We stopped a couple of times for photos, and to feel lonely.
| | | |
| --- | --- | --- |
| | | |
| The Badlands (J) | The Badlands (D) | The Corn Palace, Michell, SD (J) |
From there is was on to Mitchell, SD and the Motel 6.
July 29 - Corn Palace & International Air Ship Museum, Mitchell, SD (304mi)
We got an oil change, the third for the trip, and checked out the Corn Palace, a convention center & visitor's bureau in Mitchell. Quite a place - they decorate the building with grain and grasses arranged into large murals, new each year. After the Corn Palace we headed over to the International Airship & Balloon Museum, also in Mitchell. After our stops in Mitchell, we got back on I 90 & headed east till we it the Rochester, Minnesota KOA. A small grassy and pleasant campground. We didn't have any stops planned, we just happened to be here when we ended the day.
July 30 - Wheaton, IL (347mi)
We stayed at Don's cousins Fred & Grace in Wheaton, IL, a suburb of Chicago for the night. It sure is strange to be doing city driving! Don has been having trouble with the battery in his van - we went to a local Sears to replace it. Anne found out the battery acid doesn't mix well with nylons!
July 31 Tamsin Campground, Akron, OH (378mi)
Today we are back on the road. We drove most of the day, stopping in Akron, OH at the Tamsin Park Campground. The place looked OK - lots of nice sites near the entrance. We ended up way in the back, sites 35 & 37- pit toilets, no water or electricity (it was there, but didn't work), and abandoned trailers & truck campers littering the area. What a dump for our last night out! To top it off, it was one of the more expensive places we've stayed. Should have left, but we're too tired to argue.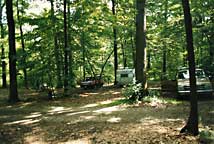 Tamsin Park, Akron, OH (J)
August 1 Home (397mi)
The last leg of the trip. We stopped to take a few photos of the air ship buildings in Akron, OH, then headed into New York State. Don & Anne stopped in Binghamton & Carol & I continued to Oswego.
Total miles for the trip - 12,020, with an average of 200 miles per day. If you only count the days we were driving, the average is about 225 per day. A great trip, but I can't believe how much we missed. We are definitely going to have to do this again.

Previous
---
This page is maintained by: vermilye@oswego.edu
Last Update: March 21, 2012