2016 - 2017 Trip to the Southwest
Day 183
2011 Trip across the US
2012 Trip across the US
2014 Trip across the US
2015 Trip to Alaska
2015-16 Southwest Trip
2016 New England Trip
Monday, May 1, 2017, Don & Anne's, Binghamton, NY, 164.3 miles, 8,432.6 Miles For the Trip
Another late start. I dumped the tanks & rinsed them well since I don't plan to use them again until next trip. I also made use of the free air at the campground - the trailer tires were down around 5 PSI with the lower altitude & cooler temperatures.
A very foggy drive for the first 50 miles or so, but after that it just turned into a cloudy day. Predictions for strong thunderstorms both at the campground & at Binghamton, but no rain for the trip. I arrived in Binghamton around 1:00. We sat around and chatted most of the afternoon.
The campsite photo is the front of their house. Notice the Scamp in the background. We will both be heading to a rally in New Hampshire on the 11th. As of today, I have been on the road for 6 months!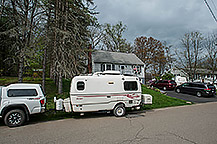 Don & Anne's
Dinner was an actual home cooked meal by Anne - chicken with artichokes.
Until tomorrow -
This page is maintained by: vermilye@oswego.edu
Last Update: May 3, 2017
---