2016 - 2017 Trip to the Southwest
Day 171
2011 Trip across the US
2012 Trip across the US
2014 Trip across the US
2015 Trip to Alaska
2015-16 Southwest Trip
2016 New England Trip
Wednesday, April 19, 2017, Townsend KOA, 107 miles, 7,599.1 Miles For the Trip
Another damp night, although the rain held off while I packed up the trailer & for most of the drive to Townsend. Most of the drive was on TN 68 & US 411. I stopped at a Walmart & picked up some stuff, then crossed into the Eastern time zone, reaching the Townsend KOA around 1:00. I set up in site 70, a water & electric site for $42.46 per night (No one ever said KOA's are cheap!)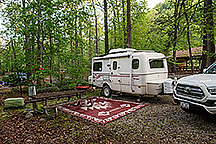 Site 70
I sat under the awning in a light rain and read for a bit, then made a run to the local IGA to see what they had in the way of blueberry pie supplies. No specials on blueberries, so it will probably be frozen ones. I hope they have enough for two pies, otherwise I'll need to go out of Townsend to get them. The last time I drove to Pigeon Forge, it took a couple of hours. It isn't that far, but the traffic is horrendous. I'll worry about that on Friday.
Back at the trailer I wandered around saying hello to a bunch of other early arrivals, then fired up the grill to make dinner.
Dinner was a grilled chicken thigh, pinto beans & rice, and asparagus.
Until tomorrow -
This page is maintained by: vermilye@oswego.edu
Last Update: April 23, 2017
---