2016 - 2017 Trip to the Southwest
Day 147
2011 Trip across the US
2012 Trip across the US
2014 Trip across the US
2015 Trip to Alaska
2015-16 Southwest Trip
2016 New England Trip
Sunday, March 26, 2017, Aux ARC Campground, Ozark, AR, 149.8 Miles, 6,780.5 Miles For the Trip
Not too long a drive today, some on I 40, but most on US 64, a two lane highway that parallels I 40, and is far more fun to drive (although, I have to admit, a bit slower). I stopped at a Walmart along the way for some supplies, then stopped for the day at an ARC campground in the Arkansas River across the bridge from Ozark, AR. I'm in site D19, a water & electric site for $9.00 per night (with the Senior Pass discount) for three nights. A pretty site overlooking the river not too far from the bathrooms. A minor problem is the railroad across the river & a crossing that requires tooting the horn. Pretty loud when sitting outside, but not too bad in the trailer.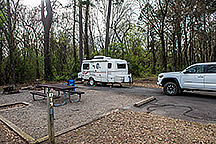 Site D19
There is one NPR news station, and good Verizon & AT&T 4G cell coverage.
I spent most of the afternoon sitting outside reading. I did take a shower around 5:00 - push buttons with a 10 second run, very hot water with the first blast, then it settles down to a good temperature. No shower curtain & the shower head aims at the drying area, but it is a standard shower head, so it can be aimed so it doesn't get the drying area too wet.
There is a prediction for severe thunderstorms in the morning, but right now it is pleasant out with a light breeze.
Dinner was a salad.
Until Tomorrow -
This page is maintained by: vermilye@oswego.edu
Last Update: March 27, 2017
---