2016 - 2017 Trip to the Southwest
Day 137
2011 Trip across the US
2012 Trip across the US
2014 Trip across the US
2015 Trip to Alaska
2015-16 Southwest Trip
2016 New England Trip
Thursday, March 16, 2017, Trailer Village RV Park, Roswell, NM, 260.4 Miles, 5,983.1 Miles For the Trip
Another warm night.
After breakfast I packed up the trailer & headed out. I made at least one camper happy - the park is full & there were 3 RVs waiting for a site.
A little bit of I 10 to Las Cruces, then US 70 to Ruidoso, where I planned to stay for the night. I did make a stop at the Las Cruces Toyota to get my 15,000 mile service, but there was no room to drop the trailer, and they didn't seem all that interested in doing the service. At 15,000 miles, all they do is rotate the tires & check fluids, etc. In any case, after trying to find a spot for the trailer & failing, I headed out.
I didn't have much better luck at Ruidoso. The campground I had entered into the GPS turned out to be a motel, and it there is an attached campground, it is pretty well hidden. There were a couple more listed in the AllStays Camp & RV app I use to do most of my searches, but after stopping at two of them & finding them filled with park model trailers and no one at the office (for one I couldn't even find the office), I gave up & continued on to Roswell, about 60 miles further down US 70.
I'm in site 29 at the Trailer Village RV Park, a full hookup site at the end of a row about as far from the road as you can get, for $34.00 per night. A level enough site that I didn't need to unhook, but on the way into town I passed a Toyota dealer, so I decided to stay 2 days, planning to get the Tacoma serviced tomorrow. Of course, after signing up for 2 days, and then calling the Toyota dealer, even though it was only 15 minutes until they closed, they took me in tonight. So, I'll have a day of doing nothing in Roswell. Maybe I'll go looking for aliens (the extraterrestrial kind)!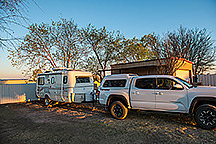 Site 29
It is hot! 95°F both in & outside the trailer. I fired up the air conditioner for the first time on the trip. I ran it for about an hour to cool down the trailer. While it was running, I defrosted the refrigerator. Now, at 7:50, it has cooled down to 81°F outside, and the trailer is slowly warming up to the outside temperature.
Dinner was fried chicken & greens from Albertson's.
Until Tomorrow -
This page is maintained by: vermilye@oswego.edu
Last Update: March 17, 2017
---