2016 - 2017 Trip to the Southwest
Day 128
2011 Trip across the US
2012 Trip across the US
2014 Trip across the US
2015 Trip to Alaska
2015-16 Southwest Trip
2016 New England Trip
Tuesday, March 7, 2017, La Paz County Park, Parker, AZ, 58.7 Miles, 5,179.1 Miles For the Trip
A short drive to the La Paz County Park on the Colorado River a bit north of Parker, AZ. I stayed here for a month a couple of years ago; this time it will be for 2 days. I'm tempted to add a couple more days to cover the weekend so I can visit the Desert Bar, an interesting place between here & Parker. I'll decide tomorrow.
I'm in site 80, a water & electric site (with cable TV) for $27.00 per night. A bit more space than last night, but still pretty much a parking lot with services. I can see the Colorado River between trailers two rows in front of me. Last time I was in a site on the river, but none available this trip.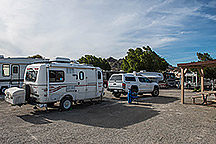 Site 80, La Paz County Park
After setting up I drove into Parker to Mike's Barber shop for a haircut & beard trim. I headed back to the trailer, set up my chair & sat out in the sun reading. While sitting, a hummingbird flew within 6" of my face & hovered there looking at me. Now I know that it is impossible that it remembered me (and my feeder) from 2 years ago, but I wasn't going to argue with it. I mixed up some hummingbird food & hung out the feeder. Within 2 minutes, it was back & at the feeder.
Dinner was left overs - a steak, pepper & onion sandwich on a hard roll, asparagus & egg potato salad.
Until Tomorrow -
This page is maintained by: vermilye@oswego.edu
Last Update: March 8, 2017
---