2016 - 2017 Trip to the Southwest
Day 112
2011 Trip across the US
2012 Trip across the US
2014 Trip across the US
2015 Trip to Alaska
2015-16 Southwest Trip
2016 New England Trip
Sunday, February 19, 2017, Jumbo Rocks Campground, Joshua Tree National Park, CA, Day 4, 0 Miles, 4,319.1 Miles For the Trip
The rain stopped just before sunset, and the sky cleared just in time to make for a cool night. Bright sunshine this morning, but still cool for my walk around the campground. There are a few groups packing up & heading home today, with people taking the sites as soon as they leave.
After breakfast I sat inside reading waiting for it to warm up enough to move outside. I did take another walk around the campground & helped an owner of a Class A RV load a motorcycle on a carrier on the back of the RV. Some lucky wanderer through the campgeound will get a nice site when he leaves in an hour or so. I also took another photo of my site since we now have blue skies behind it. While it is still cool, (in the 50's) it is warm enough to sit in the sun so I'm doing a bit of reading.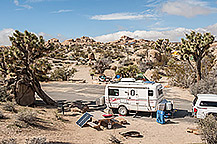 Site 40, Jumbo Rocks
It is a little early to decide on what's for dinner, but it will either be something picked up in town while I'm here posting this or a grilled chicken patty & beans.
Until Tomorrow -
This page is maintained by: vermilye@oswego.edu
Last Update: February 20, 2017
---