2016 - 2017 Trip to the Southwest
Day 73
2011 Trip across the US
2012 Trip across the US
2014 Trip across the US
2015 Trip to Alaska
2015-16 Southwest Trip
2016 New England Trip
Wednesday, January 11, 2017, La Posa West, Quartzsite AZ, Day 16, 0 Miles, 3,991.7 Miles For the Trip
On the way for coffee this morning I decided to try something different, and, instead of crossing I 10, I turned right at Kuehn St & headed to the Bad Boys Cafe. Very crowded, but good food. The menu is on the wall as you walk in - typical breakfast food served all day as well as the standard diner food (no pancakes after 11:00AM). You order at the counter, get a numbered table tag, and they bring out your food when done. I had a huge cheese & mushroom omelet & hash browns. The coffee was only OK; the coffee at the 76 gas station is better, but overall a good breakfast at a good price.
There has been a considerable deterioration of available listening for NPR & classical radio fans in Quartzsite. The closest (and only, at least for my radio) NPR station is KAWP in Parker, AZ, which is a sister station of KAWC in Yuma. Evidently, the link feeding KAWP is down - the station has been transmitting dead air for the last couple of days. KCNL, the strange, new classical station I found at 105.9 has gotten even stranger. It appears the music server crashed, leaving a loop that is about a tenth of a second long that is transmitted continuously. At first I thought it was a Phillip Glass tune, but even he changes the music after 5 minutes - the loop at KCNL hasn't changed in 5 days. It gets boring fast! Thank goodness for an iPhone with unlimited data & a good internet connection. I've been listening to the Phoenix stations here in Quartzsite.
Well, it is now 3:40 in the afternoon, and KAWP is back on the air. Unfortunately, KCNL is still playing pseudo Phillip Glass.
I spent the afternoon sitting in the sun reading, using the trailer to block the wind. A bit breezier than yesterday, but clear skies. The only photo for the day is the moonrise over Quartzsite.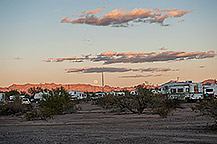 Moonrise
Dinner was Chicken Parmesan, Saffron Rice & broccoli.
Until Tomorrow -
This page is maintained by: vermilye@oswego.edu
Last Update: January 12, 2017
---