2016 - 2017 Trip to the Southwest
Day 71
2011 Trip across the US
2012 Trip across the US
2014 Trip across the US
2015 Trip to Alaska
2015-16 Southwest Trip
2016 New England Trip
Monday, January 9, 2017, La Posa West, Quartzsite AZ, Day 14, 68 Miles, 3,991.7 Miles For the Trip
A busy morning. After a walk and breakfast I drained the hot water tank for the second time, then finished packing up the trailer for the trip to Quartzsite. I stopped at the water fill station, added a 1/4 cup of bleach to the fresh water tank & half filled it. I also filled the hot water tank, then drove over to the dump station to dump the waste tanks. They had a standard hose connection at the dump station, so I used it with my non drinking hose to run the flush system in the black tank.
On the way back to Quartzsite, when ever no one was behind me, I did lots of stops, starts & trailer swaying to slosh the water around the tank. I stopped after driving about 1/2 way & drained both the hot water tank & the fresh water tank. Once I arrived at Quartzsite I stopped at the water fill station at La Posa South & filled everything. Hopefully, all that will freshen the water system. There was light rain on the drive, but most of it stopped by the time I reached my site.
I pulled into La Posa West and discovered some friends (Linda & Mel) were set up near where we were last year. I'm parked just behind their location. We chatted for awhile, then I finished setting up the trailer. While I was gone, they set up the "Big Tent". The show doesn't start until Saturday, the 21, but it does take time to set up the hundreds of booths inside.
It was a nice afternoon. The sun came out & the temperature was in the mid 70's. My brother in Nantucket, MA said a couple of nasty words about my nice weather over the phone - he has 14" of snow on the ground & 20°F outside. I did remind him that the summers in Nantucket are far nicer than summers here at Quartzsite where the temperature is often over 120°F, but somehow that didn't make him any happier!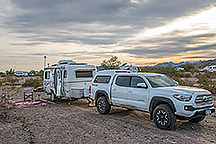 La Posa West, Part 2
Dinner will be a turkey Bubba Burger & the rest of yesterday's Rice & Broccoli.
Until Tomorrow -
This page is maintained by: vermilye@oswego.edu
Last Update: January 10, 2017
---