2016 - 2017 Trip to the Southwest
Day 45
2011 Trip across the US
2012 Trip across the US
2014 Trip across the US
2015 Trip to Alaska
2015-16 Southwest Trip
2016 New England Trip
Wednesday, December 14, 2016, Picacho Peak State Park, Picacho, AZ, 282 Miles, 3,583.4 Miles For the Trip
I woke up early enough to take a couple of sunrise photos. Unfortunately, the wide images that showed more sky included the park office & bathrooms rather than the rocks, but this crop does include a crow on top of the one column.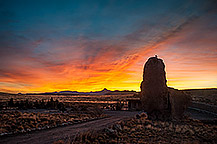 Sunrise at City of Rocks
It was a longer drive than usual, but I wanted to hit Picacho Peak State Park for the night. I'm in my usual site (B1) which I've stayed in twice before. A great view of the valley, far enough away from I 10 & the railroad so the noise is barely there, and close to the showers. All the sites are electric only for $30.00 per night. The WiFi here at the campground is the fastest I've had on the trip. That might be because there are very few RVs in the park. In any case, I appreciate it!
I defrosted the refrigerator, hoping that I'll need to do it less often now that I'm out of the humid south. The weather is great - 72°F this afternoon. Far better than home, where it is 25°F this afternoon & going to the single digits tomorrow night. It does get cool at night - the prediction tonight is the high 30's.
I was going to cook my pot pie since I have electricity, but being a waste not type of guy, I ate the last chicken leg from the other day. I still can't get over a single drumstick being a full meal's worth of meat!
After dinner I had a shower, then waited for the moon to rise for a photo. Too many clouds for a good moon rise picture, although the colors just before it appeared almost looked like a sunset. That vertical line on the moon is a cactus.
| | | |
| --- | --- | --- |
| | | |
| Site B1 | The View | Dusk |
| | | |
| Before Moon Rise | Moon Rise | |
Until Tomorrow -
---
This page is maintained by: vermilye@oswego.edu
Last Update: December 15, 2016