2016 - 2017 Trip to the Southwest
Day 43
2011 Trip across the US
2012 Trip across the US
2014 Trip across the US
2015 Trip to Alaska
2015-16 Southwest Trip
2016 New England Trip
Monday, December 12, 2016, Western Sky's RV Park, Vado, NM 231.9 Miles, 3,196.4 Miles For the Trip
A long, mostly boring drive west on I 10. I decided it was time to get out of Texas, so I drove a bit further than usual to reach Vado, just across the Texas, New Mexico border. I don't have anything against Texas; I've had a great time here, but I've been in the state for almost a month.
The campground is just a few minutes east of my favorite Mexican restaurant, Chope's, however they are closed on Sunday & Monday. I don't know how I do it, but every time I drive by Chope's it is either a Sunday or Monday! I could hang around until 11:30AM when they open for lunch tomorrow, but I'll probably move on.
I made a run to near by Las Cruces to get a haircut, but the barber shop I found using Google was shut down. I did drive across the street to a car wash & spent $4.50 washing the truck. The bay was high enough for the trailer as well, but it was back in the campground. Another quick stop was the local Walmart for some supplies, including a pair of winter underwear. I keep forgetting to pack a pair for the trip (probably my way of deciding it isn't going to be cold), so I have quite a collection at home. Of course, since I bought a new pair, it probably will not get cold for the rest of the trip (I can only hope!)
On the way back I stopped at a Chrome Outlet gas station & picked up 3 of the largest chicken legs I've ever seen. The looked like turkey legs, but tasted like chicken. The only sold in lots of three, and all I could eat (with a small salad) was one. Two are in the refrigerator for the future. I took the campsite photo showing the almost full moon through thin clouds. I'm at the Western Sky's RV Park, within a couple of 100 feet of I 10. Noisy, but convenient. One of the few quick stop RV parks that includes a picnic table. Site B2 with full hookups for $20.28 for the night. Free, fast WiFi is included, but no 30 amp receptacle. Again, I used my 50 to 30 amp adapter. I'm glad I carry it!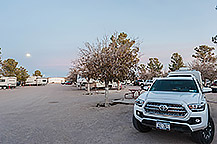 Site B2
Until Tomorrow -
---
This page is maintained by: vermilye@oswego.edu
Last Update: December 13, 2016