2016 - 2017 Trip to the Southwest
Day 23
2011 Trip across the US
2012 Trip across the US
2014 Trip across the US
2015 Trip to Alaska
2015-16 Southwest Trip
2016 New England Trip
Tuesday, November 22, 2016, Matagorda Bay Nature Park, TX, Day 3, 100 Feet, 2105.1 Miles For the Trip
Today will have to be the record for the shortest move - about 100'. I', now in site 47, another full hookup site that, because it is preferred, is up to $34.50 per night with the reservation fee & park entry fee. I'm here until Friday, at which time I have to leave for 2 days. There is an unofficial dry camping area near the loop at the end of the road; I'll probably stay there.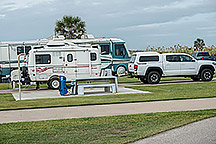 Site 47
The big excitement for the day was a Texas cattle drive. According to the attendant at the Nature Center, they won't allow the cattle on the bridge that crosses to a rancher's winter grazing area, so he swims them across the Colorado River twice a year. Today is the day! They truck the cattle to a holding pen & drive them across at low tide. They had a bunch of cowboys (and girls) on horses guiding them, a couple of boats in the river (one of which had to lasso a cow that kept wanting to come back to this side of the river). I wandered around & took a bunch of photos, including one of my "interesting" tree images, and a flock of pelicans:
| | | | |
| --- | --- | --- | --- |
| | | | |
| | | | |
| | | | |
| | | | |
| In the River | Climbing Out | He Didn't Want to Go! | The Crowd |

The Holding pen
After that it was time to make the pie for tomorrow's pot luck. I definitely need to learn to check supplies before I make a run to the store, particularly when it is 30 miles away. My recipe calls for one cup of sugar - I discovered only have a half a cup. Luckily, there is a small store in Matagorda, a town at the foot of the bridge that is at the beginning of the road to the park, and only 6 miles away.
I keep trying to make the pie less soupy. It tastes fine, but there is always too much juice, particularly if I use frozen berries. They were fresh today, and I added a bit more Instant Clear Jel than I've been using. The toaster oven is part of the problem - there isn't enough air circulation, at least not as much as in a 30" household oven. I added 10 minutes to the cooking time at a bit higher temperature, producing a nicely browned crust. We will find out tomorrow about the juice!
Dinner was the left over spaghetti.
Until Tomorrow -
---
This page is maintained by: vermilye@oswego.edu
Last Update: November 24, 2016