2016 - 2017 Trip to the Southwest
Day 16
2011 Trip across the US
2012 Trip across the US
2014 Trip across the US
2015 Trip to Alaska
2015-16 Southwest Trip
2016 New England Trip
Tuesday, November 15, 2016, Double Lake Forest Service Campground, TX - 166.5 Miles, 1920.1 Miles For the Trip
Well, I made it through the night with no pain. I used Matilda, my GPS to plot the route to Double Lake Forest Service Campground in Texas, but there was a bridge out on the route. I ended up driving to Jasper, TX, then north, listening to the GPS telling me to "Make a U Turn" every mile or two. I finally shut off the voice.
I stopped at a Walmart along the way to pick up some Tylenol (actually the equate version) since I didn't need the prescription pain killer the dentist subscribed, and I was out of Acetaminophen.
Not a bad drive on mixed 2 & 4 lane roads. I arrived at the campground around 2:00, and one of the hosts followed me around while I chose a site so I wouldn't have to go back to the campground office to hand in the pay envelope. The basic charge is $20.00 + $10.00 for water & electric. The base charge (not the utility charge) is cut in half with the Senior Pass, so it is $20.00 per night. I'm in site 56 for two nights.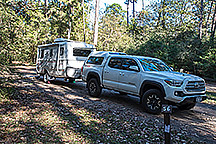 Site 56
After setting up I walked around the campground loop. I discovered I was set up about 1/2 way between two bathrooms, both a fairly long walk away. Since the only part I'm interested in is the shower, it doesn't matter all that much - no temperature adjustment on a lukewarm 1/4" thick stream of water.
It is warm enough that I ran the Maxx fan for the first time of the trip, around 84°F at 3:30. I sat out and read most of the afternoon.
Dinner is another "soft" meal - Chicken & Rice Soup & a roll.
Until tomorrow -
---
This page is maintained by: vermilye@oswego.edu
Last Update: November 16, 2016