2016 - 2017 Trip to the Southwest
Day 14
2011 Trip across the US
2012 Trip across the US
2014 Trip across the US
2015 Trip to Alaska
2015-16 Southwest Trip
2016 New England Trip
Sunday, November 13, 2016, South Toledo Bend State Park, LA - 174.6 Miles, 1753.6 Miles For the Trip
A bit cooler than the last couple of mornings at 46°F outside (but a nice 70°F inside due to the Pelonis Disk Furnace, my 1986 electric cube heater). Lots more folks packing up & leaving this morning. I did the same after breakfast.
Most of the day was spent driving on US 84 & LA 28, a mix of 2 & 4 lanes, better than I 10, but still with some rough spots. Mississippi & Louisiana doesn't spend a lot on their roads!
Gas prices are pretty good in Louisiana - $1.86 per gallon for regular, although it varied as high as $2.16 along the route. I drove through Alexandria, LA, Fort Polk & Leesville on the way to South Toledo Bend State Park. I was in the same area in 2005 with the Red Cross for the Katrina hurricane & less memorable, at Fort Polk for Advanced Infantry Training in 1968 prior to being sent to Vietnam, and finally, in 2012 when I stayed in both Natchez State Park & South Toledo Bend State Park on a long cross country trip.
I'm in site 55, a back in site with a deck outside the trailer & the picnic table below. $21.00 per night for water & electric. I'm here for two nights - I hope to visit a dentist in Leesville tomorrow since I broke a filling yesterday.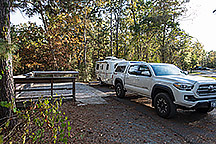 Site 55
Dinner was a chicken paddy & the rest of the sweet & sour beets & some Blue Bell "Homemade" vanilla ice cream for dessert.
Until tomorrow -
---
This page is maintained by: vermilye@oswego.edu
Last Update: November 14, 2016