2016 - 2017 Trip to the Southwest
Day 11
2011 Trip across the US
2012 Trip across the US
2014 Trip across the US
2015 Trip to Alaska
2015-16 Southwest Trip
2016 New England Trip
Thursday, November 10, 2016, Natchez State Park, Natchez, MS - 209.6 Miles, 1579 Miles For the Trip
I got an early start and was on the road by 8:00. Not sure why, but I was up & ready to go. Most of the day was heading southwest on I 59 & US 84. I stopped for the afternoon at Natchez State Park. An interesting drive on State Park road. If you arrive from the east on US 84, don't take the turn for State Park Road; keep going until you hit US 61 and take the State Park Road from US 61. Much better section of the road & much shorter.
It was interesting getting a site. At 12:00 there was a sign in the park office window stating they would be back at 2:00. Someone did show up at 1:30, but he didn't have access to the computer, so he couldn't assign any sites. By 2:20, there were 4 of us waiting. I'm in Campground B, site 27. The last time I was here in 2014, I was just down the road in site 46. I'd prefer 46 since there is a puddle between the concrete slab & the picnic table, but it is small enough to hop over. The site is a water & electric near the bathrooms for $13.41 per night (with a senior discount). Since a warm, rain free weekend is approaching, I decided to stay 3 nights.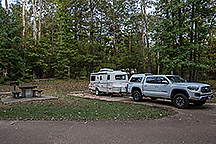 Site 27
After setting up, I headed into Natchez and the Natchez Market for some supplies. Not the least expensive grocery store I've been in, but a decent selection (although no Turkey Bubba Burgers!)
By the way, I just finished The Travels of Jamie McPheeters, by Robert Lewis Taylor. It is a Pulitzer prize winning novel about a young man & his father heading to California during the gold rush. A wonderful story!
Since it around 5:00 after shopping, I stopped on the way back to the campground at a Churches Chicken for take out. Better than some, but even though I asked for 2 legs & a thigh, I got three legs. Oh, well...
Until tomorrow -
---
This page is maintained by: vermilye@oswego.edu
Last Update: November 13, 2016