2016 - 2017 Trip to the Southwest
Day 2
2011 Trip across the US
2012 Trip across the US
2014 Trip across the US
2015 Trip to Alaska
2015-16 Southwest Trip
2016 New England Trip
Tuesday November 1, 2016 - Walnut Hills KOA, Staunton, VA, 260.9 Miles, 532.9 Miles For the Trip
It was a cold morning - 33°F (that is a dash, not a minus sign) when I woke up at 7:00AM. After breakfast I unhooked the water & power cord - a bit more difficult to roll them up, but at least they weren't frozen! I'm also glad I don't have the weight distribution hitch - those bars would have been cold on the hands hooking up.
As with all trips, things didn't go quite as planned. I arrived at Natural Chimney Community Park & found it closed for the season. I guess leaving a week later than last year is long enough to hit more closed parks - the closest one I found using AllStay's Camp & RV was also closed. So, I'm in another KOA. The Walnut Hills KOA in Staunton, VA is open. I'm in site 50, a strange back in/pull in site just across the road from the office. Water & Electric for $35.80. Unlike the Jonestown KOA, the WiFi is free, and as fast as my Jetpack.
I added a WiFi Ranger Mini, a high powered WiFi transceiver that is mounted on the roof of the trailer & it finds far more hotspots than the laptop alone. I'm using it for this post.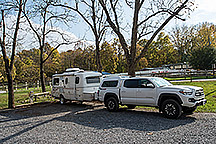 Site 50
Lots of truck traffic on I 81, but the weather kept getting better the further south I drove. Here at the campground it is 70°F and sunshine! After setting up the trailer (it was level enough that I didn't have to unhook or even use any leveling) I got out a chair and sat in the sun reading. It went behind the clouds around 4:30 so I started dinner.
It is on the stove as I type - a Bubba burger & Bush's Bourbon & Brown Sugar beans.
Until next time -
---
This page is maintained by: vermilye@oswego.edu
Last Update: November 2, 2016